2016, Art Prints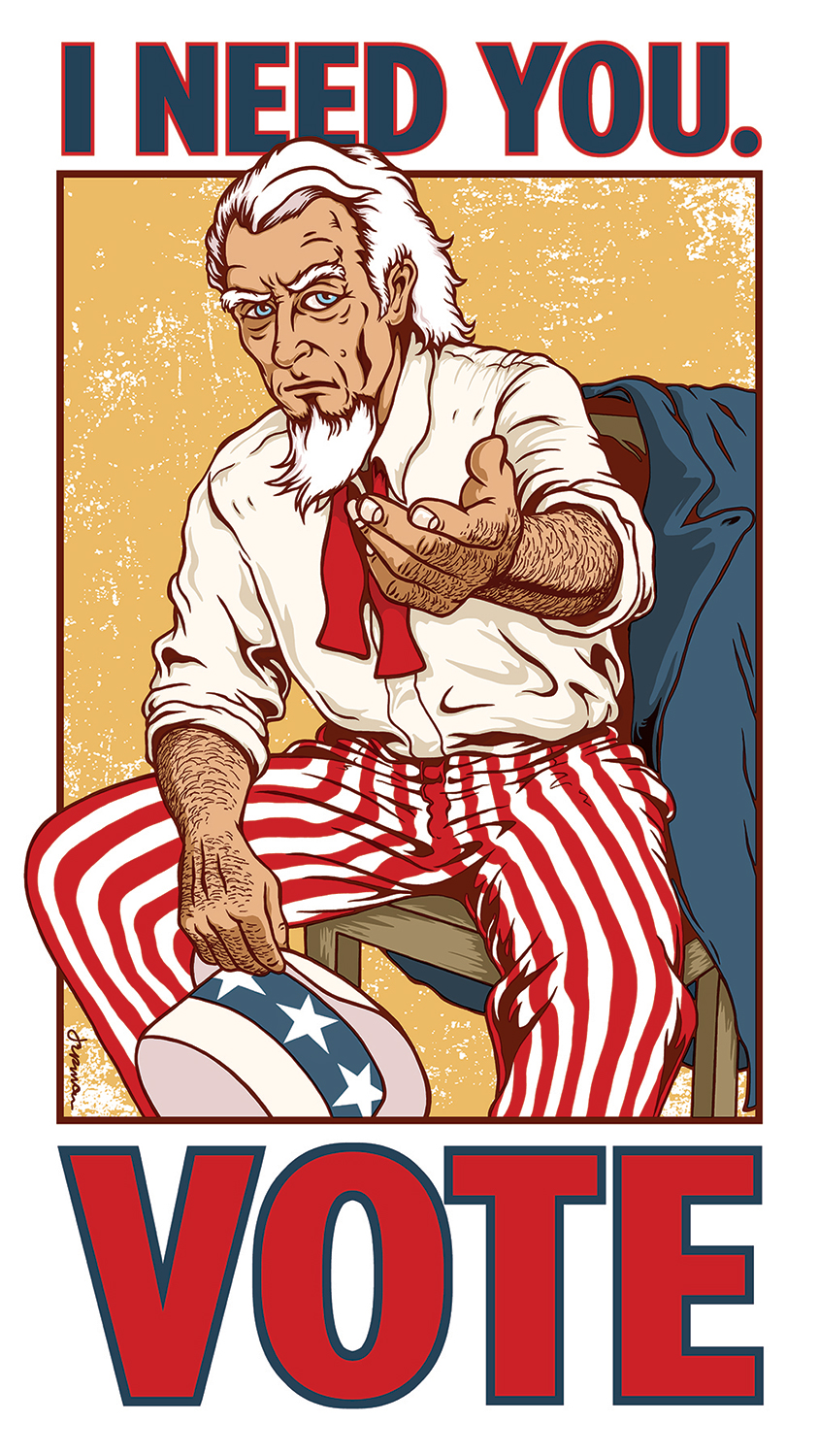 This election season, Jermaine Rogers was commissioned by the national newspaper USA Today to create a poster that would anchor their 'Vote Because…' campaign. The resulting artwork was used in the nationally distributed newspaper, as well as repeated use in target metro markets around the United States.
The upper-brass at USA TODAY also commissioned an extremely limited edition fine art serigraph (screen print) to be produced, a portion of which were distributed to members of their brain-trust and staff. The remaining quantity is being made available to the public, via JermaineRogers.com.
Describing Jermaine's artwork, the paper stated:
'Jermaine came up with the perfect image: A still strong, but clearly concerned, Uncle Sam who is reaching out to the viewer for help. Uncle Sam is an iconic image instantly recognizable to Americans as the bold star of J.M. Flagg's 1917 poster, which was used to recruit soldiers for both World War I and World War II. In that artwork, Uncle Sam is resolute. He knows what he wants and he doesn't hesitate to ask for it.'
In Jermaine's reimagining, Sam is still strong, but he's been worn down — like many of us — by a contentious, vitriolic election cycle. Instead of commanding the viewer, Uncle Sam is pleading with the viewer to vote — to not allow the news of the day, or election cycle, dissuade us from exercising our right to help chart our own future.'
Regarding the importance of voting, Jermaine comments:
'In these times when the weight of our divisions have created a communal fatigue in this country, the fundamental idea of the 'vote' is one of the things that still unites us. This ability to cast a ballot in favor of (or against) decisions which will affect our national, state and local neighborhoods is a heavy thing, especially when considering the enormous sacrifices that have been made to secure even the OPTION for you and I to do so. 
There is also the sobering realization that, if I don't vote, someone else's opinion will count for more than mine. Imagine ceding these decisions on pertinent issues to other people, some of whom maintain positions that you strongly disagree with! 
Voting is 'equality' in action. I expect my opinions regarding my government and how it's run to have as much weight as yours. You should feel the same way.' 
Jermaine feels that this print is specifically appropriate, both for this time in our history, and for all times to come. We must stay engaged. Having a voice will never go out of style.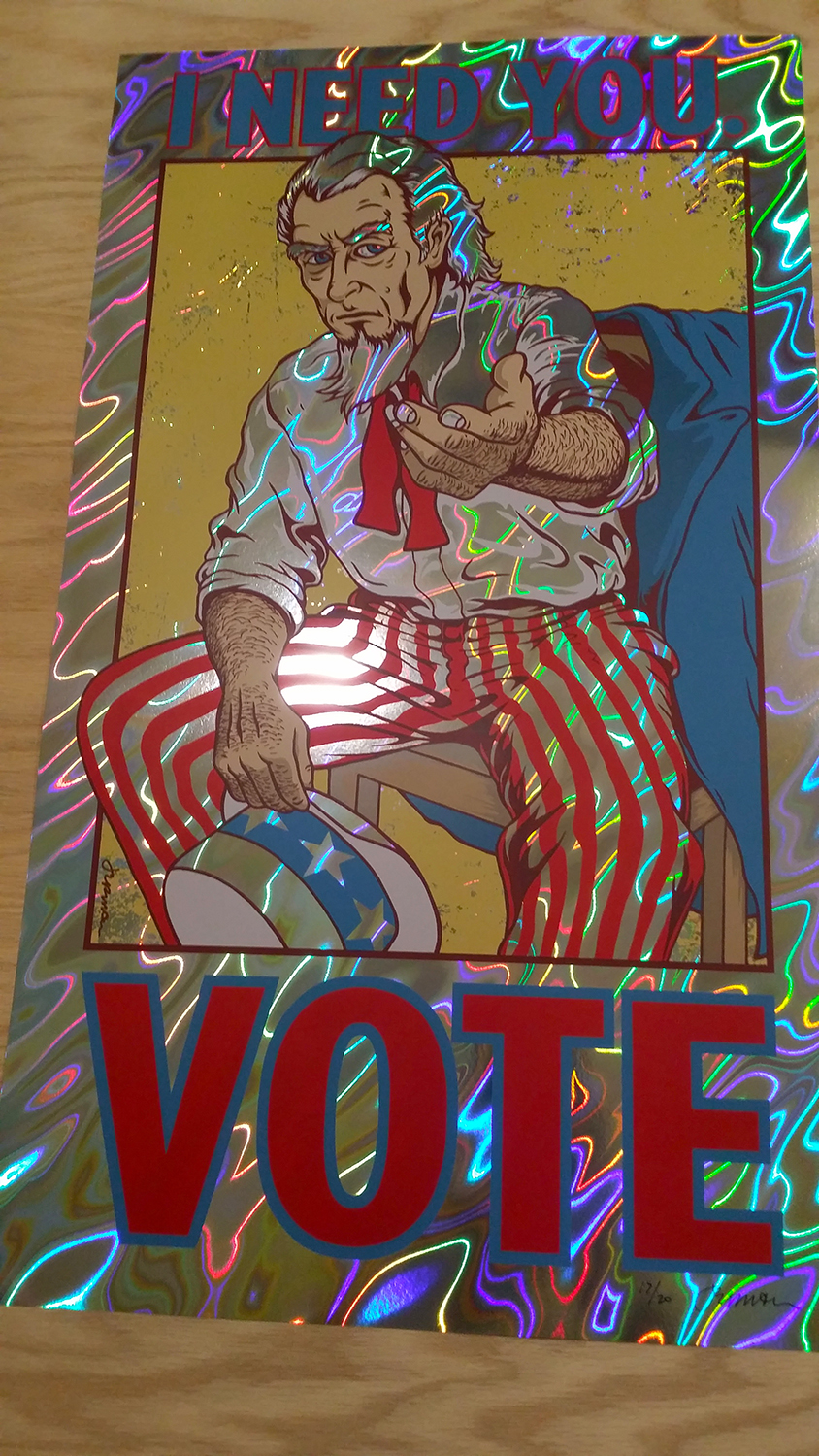 Editions:
Regular Edition – Measuring 26×15 inches, this piece was screen printed on Stardream Opal gallery stock with rich inks and is part of an extremely limited edition of only 75 copies, a portion of which will be available to the general public. Signed and numbered by Jermaine Rogers.
Lava Foil Edition – Measuring 26×15 inches, this piece was screen printed on holographic Lava Foil stock with rich inks and is part of an extremely limited edition of only 20 copies. Signed and numbered by Jermaine Rogers.