FRIDAY JUNE 20th
at: 3:00PM EASTERN (12 NOON PACIFIC)
(First come / First served)
- DOGFISH HEAD Seasonal Artwork UNCUT Proof Sheets -
- DOGFISH HEAD Seasonal Artwork UNCUT Proof Sheets -
Measuring approx. 40x26 inches, this piece is screen printed on gallery cream stock. This is a unique opportunity to own a piece of the production process. These were the uncut pieces used to proof the proper editions for all four individual Dogfish Head seasonal brew pieces. This proofing process ensures that color, continuity, and print clarity is being maintained consistently throughout the edition. Jermaine kept these few proof sheets uncut. Each piece is signed and numbered by Jermaine Rogers, from a small edition of only 25 prints. Each piece will come remarqued (doodled). These pieces will be offered on a first come / first served basis upon release. Absolutely no holds, reservations, or 'hook ups'.- 200.00

- FREE PRESS SUMMER FESTIVAL Artist Proof Edition -
Measuring approx. 30x18 inches, the official FPSF poster is screen printed on gallery white stock and contains 7 colors, including a seamless fade. This piece features several bands and artists, including Jack White, Deftones, Die Antwoord, Cage The Elephant, Wu-Tang Clan, Vampire Weekend, and others. Only 40 Artist Proofs were produced, and these will be signed and numbered by Jermaine Rogers. These pieces will be offered on a first come / first served basis upon release. Absolutely no holds, reservations, or 'hook ups'.- 50.00

- FREE PRESS SUMMER FESTIVAL Artist Proof Edition (MINI) -
Measuring approx. 17x11 inches, the official FPSF poster is screen printed on gallery white stock and contains 7 colors, with a different color scheme than the full sized version. This piece features several bands and artists, including Jack White, Deftones, Die Antwoord, Cage The Elephant, Wu-Tang Clan, Vampire Weekend, and others. From an Artist's Edition of only 75 prints, signed and numbered by Jermaine Rogers. - 25.00
All of the above items will be available:
at: 3:00 PM EASTERN (12 NOON PACIFIC)
(First come / first served)
** SPECIAL NOTE - There will be a few surprise items available as well, not mentioned above. Pay attention! **
- DERO72 SHIRT LINE -
Remember, T-Shirts are always available at JermaineRogers.com. The initial 6 designs from the DERO72 label are available in a variety of sizes and colors. This Friday, we will also release XXL sizes in the Aleppin Sane shirt design.
- JERMAINE ROGERS X KIDROBOT Apparel & 'My Brother Was A Hero' Vinyl Figure -
Speaking of apparel, you can still snag some of the wonderful tees, hats, and buttoned shirts from Jermaine's collaboration with KidRobot. These items are only available for a limited time and are high-quality duds, featuring some of Jermaine's most iconic designs.
Jermaine's recent vinyl art toy/figure collaboration with KidRobot, 'My Brother Was A Hero', is also now available. The regular colorway of the figure (based on Jermaine's iconic 2008 art print of the same name) features detailed sculpting and measures approx. 8 inches tall. The 'shadow' variant is all black, with the exception of accent colors in the eyes and the wires of the bomb. Both figures come packaged in a box featuring the original artwork by Jermaine.
Both the figures and the apparel line can be found at KidRobot locations, designer vinyl stores, art toy boutiques, and other places where pop art product is sold. Of course, you can also snag these items at KidRobot.com!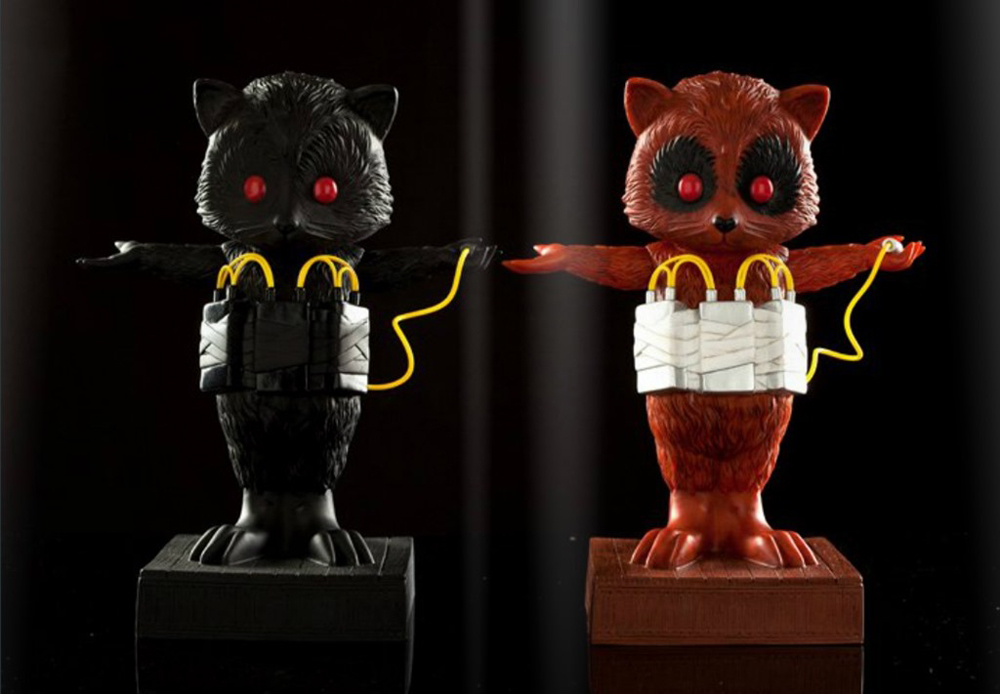 - SAN DIEGO COMIC-CON 2014 -
Jermaine will have a booth at this years Comic-Con. There will be 2 new vinyl toy releases, the usual supply of rare and sought after prints and mini-prints, limited edition apparel, and a few surprises. We'll give your more info as we get closer to the event.
That's it for now! Remember, if you haven't linked with us on Facebook, do so. It'll give you a chance to check out what's going on with Jermaine in 'real time', as well as a look at special offers not mentioned in these emails.
Follow Jermaine on Facebook at:
https://www.facebook.com/dero72
- or -
https://www.facebook.com/JermaineRogersArt
Also, if you aren't following Jermaine on INSTAGRAM, get connected. Jermaine posts special looks at artwork, original artwork, and other surprises. Follow Jermaine on Instagram: @JermaineRogersArt
Next time, more SDCC news, a new project with Kirk Hammett of Metallica & Scion, new QOTSA, and a new thing for Die Antwoord!
Until then, see you on Friday!
- us