2011, Gig Posters
Foo Fighters Motorhead – Memphis 2011
For just a handful of shows, the amazing Foo Fighters and the mighty Motorhead will be performing together. Jermaine was commissioned to do a limited edition print for the Memphis, TN. date of this mini-tour. Measuring approx. 30×23 inches, this piece is screenprinted on silk-coat gallery stock and is part of a limited edition of only 50 signed and numbered prints.
Regarding the imagery, Jermaine comments:
'There's a horde of folks proclaiming that Saturday, May 21st is the end of the world as we know it. Other folks think it'll happen sometime in December of 2012. There's a million ways we could off ourselves…if one of several tribal 'gods' don't do us first. All of the belief systems on our little world have one thing in common: one day (and soon), their god is going to come and save them…oh yeah, and get rid of everyone else.The prominent belief system in this country (USA) revolves around a certain holy book in particular. That book tells a wonderful little story about 'Four Horsemen' who's trauma-inducing 'ride' during the final days would signal 'the end'. I decided to visually interpret this passage…in my own little way.
I wonder how long human beings have been fascinated with ending themselves?'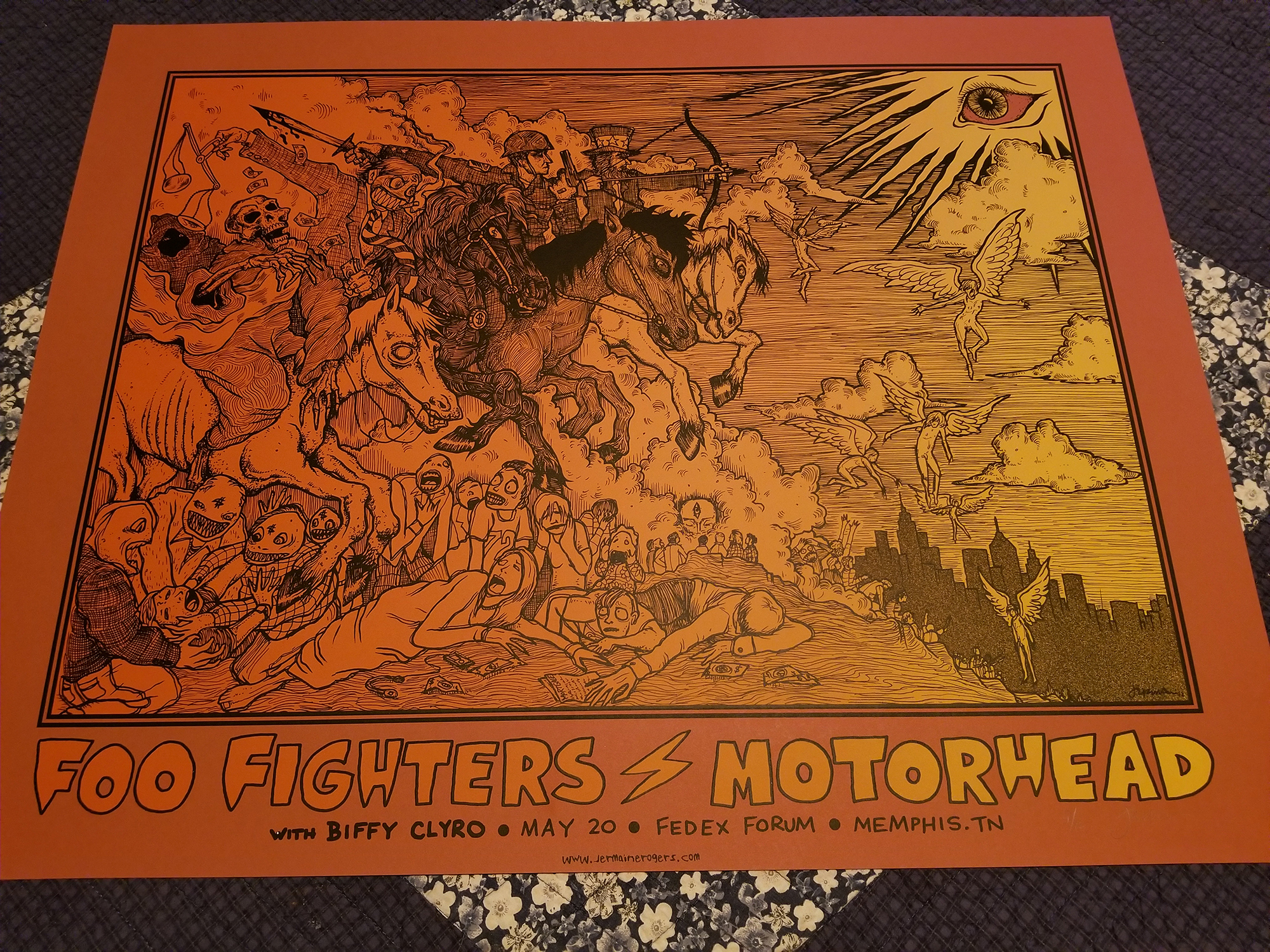 Editions:
Artist Edition – Masterfully printed by the mechanical hands of Isaac Menge and his team at Lady Lazarus Press, & features a variety of lovely inks. approx. 32×23 inches, printed on an archival cotton rag with hand torn edges.
Rust variant – Measuring approx. 30.5×24 inches, this sought after piece features detailed linework, striking inks that showcase a beautiful gradient fade, and was printed on rust/salmon colored gallery stock.  From an edition of only 12 pieces.