2015, Gig Posters
Jermaine was commissioned to create the print for the final date of the recent tour by the amazing band PUSCIFER, the side project of TOOL front-man Maynard James Keenan. It was the second print that Jermaine created for the tour. This tour was quite a road-show, featuring luchadors (Mexican wrestlers), sideshow entertainment, and of course the amazing musical performance by the band. The amazing artist, ZOLTRON organized an amazing group of hand-picked artists for the Puscifer 2015 tour poster series. Maynard requested that participating artists consider incorporating some of his current vices into the imagery of their print: namely the Mexican wrestling theme, wine, and the desert.
Keeping this in mind, for the final print of the tour Jermaine chose to offer an image with throwback appeal. Nearly 20 years ago, Jermaine created a print for a 1990's era show by Maynard's other band, Tool. The now iconic 'devil boxer' imagery provided Jermaine with an idea.
He mentions:
'So, I decided to have some fun and create a throwback image…a nod to an older piece which I made nearly 20 years ago for one of Maynard's other bands. It seemed like a nice way to end the Puscifer 2015 poster series, and a lovely way to prepare for what Maynard is about to get into next. Our svelte, red guy with the sharp horns has taken off the boxing gloves & pulled on the luchador mask, these days. Apparently, he's decided that his training routine needs to get a bit more 'hands on'…anything to get a leg-up in the Judgement Day 'brawl-for-it-all'. That said, he still knows how to take a break: a quiet moment with a smoke and a glass of wine. And not just any old swill, either. Nothing but the good stuff. He's got class.' – jr
Printed by the mighty hands at Lady Lazarus Press, this piece measures 30×11 inches on gallery white stock. It features rich screen print inks (including a metallic). From a very limited edition of only 75 signed and numbered pieces.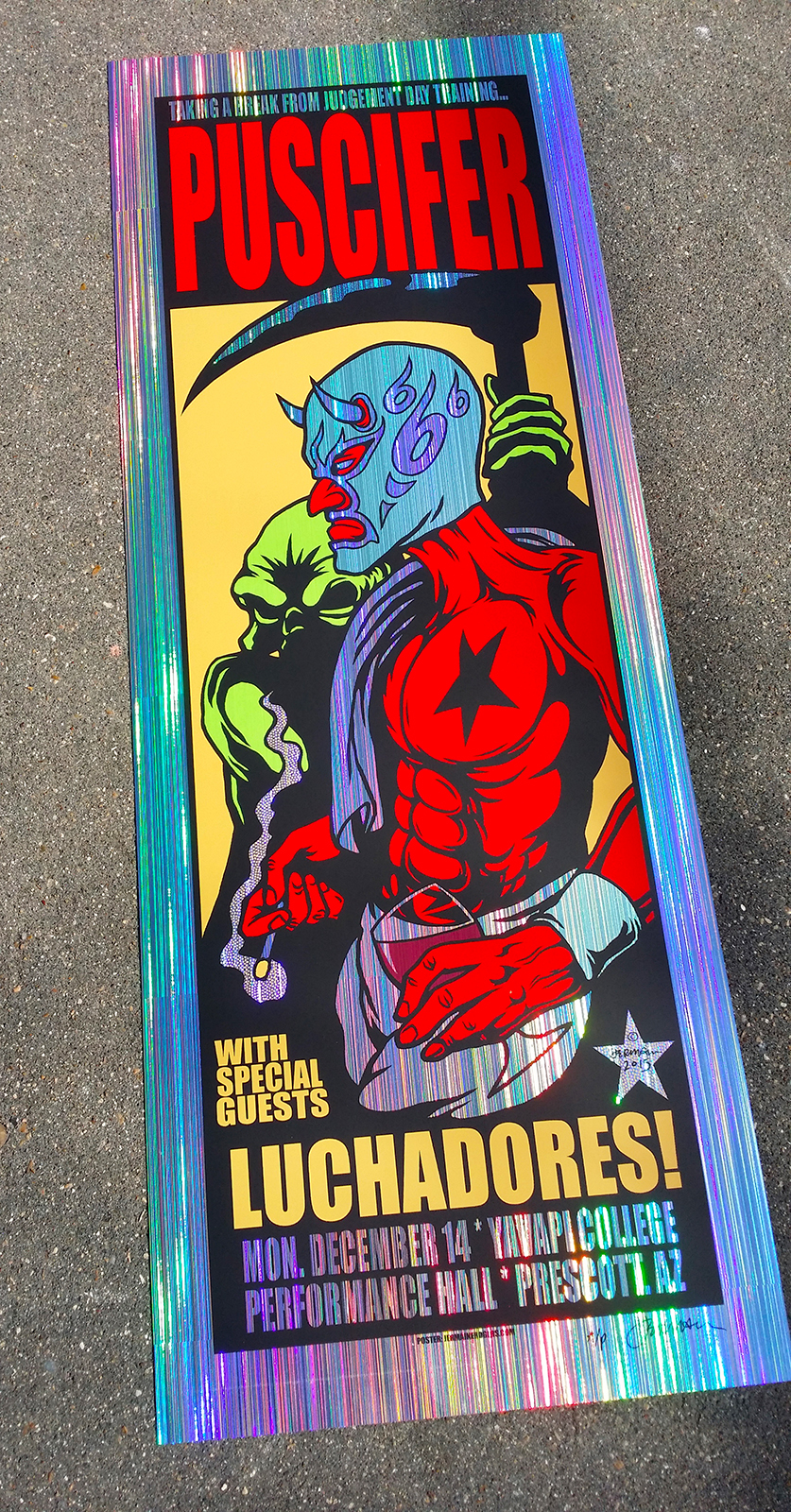 Editions:
RAIN FOIL VARIANT- Printed by the mighty hands at Lady Lazarus Press, this piece measures 30×11 inches and is printed on 'RAIN' Foil stock. From a very limited edition of 10 pieces signed and numbered by Jermaine.